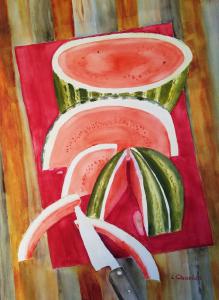 "Summer isn't summer at our house without watermelon in the refrigerator. We buy a melon, cut it in half, slice it up, and bag it for easy access on a hot day" – Larry Charles, contemporary watercolor artist.
FREE RECEPTION: SATURDAY, AUG. 11TH 2:00 – 4:00 PM
Larry Charles's watercolor artworks are big, bold and brilliant!"
— Hallet Oak Gallery Curator
HALLETTSVILLE, TX, UNITED STATES, August 6, 2018 /EINPresswire.com/ — The Spotlight on the Arts at the Hallet Oak Gallery for August will be featuring watercolor artist, Larry Charles. Larry's opening reception will be Saturday, August 11, 2018, 2:00 till 4:00 PM at the Hallet Oak Gallery, 115 N. Main St., Hallettsville, TX. All are welcome to attend the opening and meet Larry Charles in person.
Larry Charles bold color and strong imagery is what comes to mind when viewing his treasured works of all kinds of subjects, from longhorn steers, fruit and gardens. An award-winning artist, he has paintings in private collections throughout the U.S., Canada, and Europe. A native Coloradan who married a fifth generation Texan, Larry now lives in Lavaca County.
Larry's exhibit will remain on display through August 31st. All Spotlight exhibits are free and open to the public. His works will be for sale. For more information visit www.halletoakgallery.com.
Mieko Mahi
Hallet Oak Foundation
361-217-7030
email us here
Hallet Oak Gallery PSA

Source: EIN Presswire